Data discoveries
Navigating the 2019 NBA finals (and reaching the fans watching)
After the Raptors' remarkable effort to overcome Steph Curry's historic effort in the NBA Finals on Wednesday night, Toronto now leads 2-1 and basketball fans in the US and Canada now find themselves eager to watch a series that is suddenly much more competitive than most expected it to be. As usual, we at MiQ can't just watch the games, we've also got to do analysis (being passionate about data and audience is our cross to bear, really), and so we've dug into the profiles of NBA fans across both countries for a look at who they are and what advertisers need to know about reaching them.
CHANGING VIEWING HABITS OR DYNASTY FATIGUE?
Historically, the NBA finals has been more-watched than the World Series and the Stanley Cup Finals, occupying a second-place spot next to the Super Bowl. Overall viewership for the NBA Finals has declined over the past few years and continued through this year's game one. Despite a Raptors win, game one ratings were down 18% from last year. Things improved slightly in game two, but not enough to bring ratings in-line with last year's viewership totals, and ratings were down again in game three. Viewership among the key 18-49 demographic dipped significantly from last year, with 10.77 million viewers to 2018's 13.6 million and 2016's 19.2 million.
But is this decline in viewership a sign of fatigue at the continued dominance of the Golden State Warriors? Is it a sign of American disinterest at the lack of a second US team? Are basketball fans unable to cope with the idea of an NBA Finals that doesn't include LeBron James for the first time in 10 years? Or is it the mark of a broader change in viewing habits?
More importantly, how did the NBA lose half its viewers over a three-year span?
STREAMING AND OTT VIEWING CONTINUE TO REPLACE LINEAR TV
One factor in the decline is the shift to watching streams of the NBA finals. As fans, particularly men between the ages of 18 and 34, look to stream the games online, they naturally migrate away from traditional TV viewership. By contrast, the NBA TV audience skews older, tending to be in the 25 to 44 age group. The shift has been such that ESPN decided to test a teen-targeted simulcast and live stream option for game two of the finals this year, hoping to capture younger viewers with a custom product that included different commentators, visual effects, and emoji in an attempt to "Twitch-ify" the event.
A Google survey last year revealed that nearly one third (30%) of adults 18 to 54 have live-streamed sporting events to their smartphones or tablets, with higher percentages among younger respondents. Nielsen studies have shown that more than 71% of US fans stream sporting events on any device (not just phones and tablets) at least once per month, while 26% stream multiple games per month.
It's not just about cable costs, either–households that search for NBA game streams online are likely to be more affluent, and have an average annual HHI between $100k and $125k. They're also more likely to show an interest in luxury brands when shopping online.
Percentage of fans willing to pay to watch streaming games by sport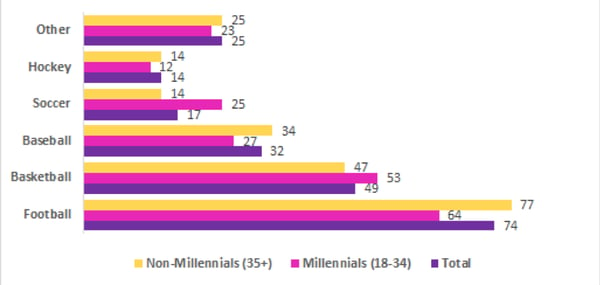 Frequency of streaming sporting events in the US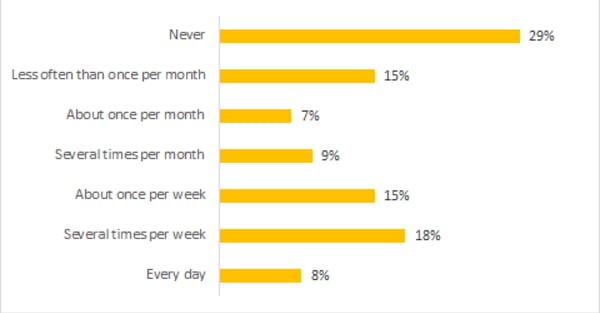 CANADIAN VIEWERSHIP
The participant markets are likely another driver: While there was a decline in Finals viewership in the United States, the same wasn't true for Canada, where the finals garnered their highest ratings ever, reaching 7.4 million Canadians with an average audience of 3.3 million viewers for game 1. That's nearly one fifth of the country's population, and a clear mark of the excitement surrounding the Raptors not just in Toronto, but nationwide. This also marks the first year that more Canadians might watch the NBA Finals than the Stanley Cup finals.
Game 2 saw similar results, with an average audience of 4.3 million viewers across all simulcasts, beating game 1 in ratings for Canadian metered households.
Note: Game 3 results for the Canadian market were not available at the time of this writing.
IDENTIFYING THE DIFFERENT TYPES OF BASKETBALL FANS
During the NBA Finals, fans of every team will tune in to watch the season's final matchups, as well as general sports fans there for the spectacle and curious casual passers-by, interested in seeing what all the fuss is about. For advertisers, this can represent a significant challenge. A large portion of the audience is die-hard fans who have been following along and watching games all season, frequently exposed to sponsorship content and ads, while other, significant portions may just be exposing themselves to the brand's sponsor messaging for the first time. What's more, they may be an entirely different type of fan, with different needs and interests.
In an effort to tackle this challenge, we've taken TV viewing data from NBA and college basketball viewing over the past year and run it through a clustering analysis, to segment basketball viewers into multiple, easy-to-identify categories based on how they engage with basketball, both professional and collegiate.
Note: We did a similar analysis back in our March Madness study. Consider this an expansion of that work, that takes both pro and college basketball into account.
Basketball fans, segmented by engagement
BASKETBALL-CURIOUS
The most numerous of the TV-watching segment that tunes into basketball, fans in this category account for roughly two thirds of the entire basketball audience. Most of these fans are casual sports fans/viewers who do not follow basketball regularly but may tune in to watch basketball when they have a free evening or have company over who are interested in the game. They're equally likely to watch college or NBA basketball, and slightly more likely to tune in for big games and events such as March Madness, marquee matchups, or the NBA playoffs. These fans will be in-and-out all year, and may only see your ads a few times if you're a sponsor.
THE BIG STAGE FANS
Fourteen per cent of basketball fans fall into this category, which covers fans who are less likely to watch regular season games but who are likely to tune in at the end: 70% of the basketball games viewed by fans in this group will be either during the NBA playoffs or from the Sweet 16 rounds of the March Madness tournament onward. During that time they'll double the amount of time they spend watching individual games, and make an effort to tune in, but will average less than half a game when viewing games before that point. You really only see these fans during the final weeks of a season.
NBA-FIRST SUPERFANS
These are the most engaged basketball fans of any group, but their first love is the NBA. (They'll still watch college basketball and a significant amount of March Madness, though.) Fans in this category make up about 1.3% of all basketball fans, but they'll consume more minutes per year of basketball than any other group, and more than twice as much as the average fan as they watch more than 50 hours of basketball during a season, and they'll usually watch more than a single team. They'll also regularly consume basketball content online throughout the year, including talk shows, articles, trade information, draft news, and stats. These are the fans who are likely to care the most about NBA tie-ins and engage with sponsored content.
SPECTACLES
These fans are here for the events. All of them. Extremely here for them. They're bigger basketball fans than the Big Stage fans, because they'll watch big matchups during the regular season, and they're huge March Madness fans. Fans in this group make up 7% of basketball fans and they're just as here for events in other sports: 73% of fans in this group will also watch and follow other major events such as the Champions League Finals or the Super Bowl. They consume more March Madness content than any other group of basketball fans and are the most likely to engage with bracket competitions. They're the most likely to watch the NBA All-Star game and they'll tune into an average of 31 March Madness games during the tournament, completing 63% of them. If you want to reach these fans, you can do it through the big events and gambling competitions.
Fans in this group make up just under 5% of basketball fans and are big consumers of NBA content, but have little interest in college basketball, with only a passing interest in March Madness. They'll watch an average of 27 NBA games per season and are likely to spend most of it following a single team. On game days they'll spend more than an hour watching basketball-related content, including pregame and postgame talk shows and highlight shows in addition to the game itself. They'll be regular fans throughout the season, but may disappear if their team misses the playoffs.
The majority of Canadian NBA viewers fall into this and the NBA-First Superfans segments, owing primarily to the lower popularity of March Madness in Canada.
REGIONAL BASKETBALL FANS
Fans in this group primarily watch games supporting their local or home team, with a bigger emphasis on college basketball than the NBA. Two thirds (67%) of fans in this group only watch games featuring their preferred/local team, and while the average amount of time they spend viewing will be fairly consistent between the regular season and playoffs/tournament, they'll disappear near-completely if their team doesn't make it or gets ousted.
COLLEGE-FIRST SUPERFANS
The most ardent college basketball fans make up 1.2% of all fans, and they'll religiously follow college basketball throughout the season and up through the March Madness tournament, spending an average of more than 41 hours watching games. They'll also show a considerable interest in NBA games, but their priorities are clear. These fans regularly consume digital content around college teams and their chances of making it to the tournament on Selection Sunday, and can be reached by advertisers throughout the season.
Number of Matches Watched, by Event Type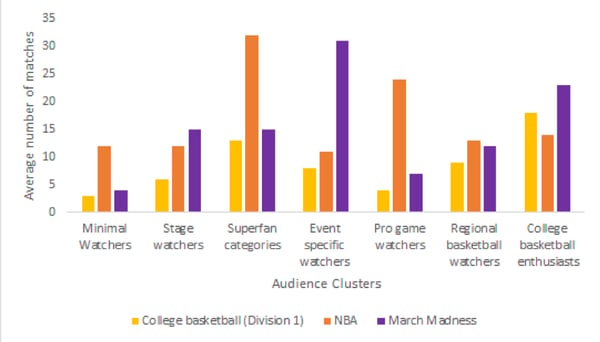 THE SERIES IS STILL YOUNG
The good news for the NBA is that the series is still competitive and we're only three games in. There's lots of room for the series to develop a character of its own and attract more viewers, particularly if the Raptors can keep up their intensity on the road and force a game six or game seven. The longer the series goes, the greater the likelihood of recapturing eyeballs from the more casual basketball fan groups such as the basketball-curious and Big Stage fans, who will be there more to see if the Warriors can be beaten than to just watch the final minutes of a blowout.
For advertisers, reaching these fans effectively means understanding the different types of fans they're dealing with, and having a plan to connect those fans' TV viewing to their digital habits. It means developing campaigns that consider a viewer's entire cross-channel experience to make sure that the message being delivered is relevant and informative (without being repetitive). It means tying those campaigns to business outcomes and using Marketing Intelligence to drive meaningful results among each audience.